The Man Who Came in from the Cold, to Support B'nai B'rith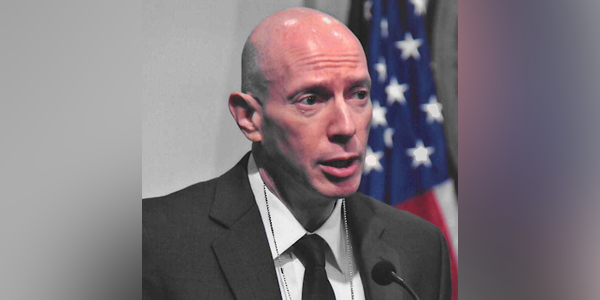 By Sam Seifman
Born and raised in Yonkers, N. Y., Dave Roseman developed a strong social conscience that would lead him into the worlds of diplomacy and spy craft.
His mother, Roselle, was a registered nurse, and his father, Bernard, started his own textile company in midtown Manhattan. In the 1950s, Roselle stood up to an anti-Semitic antique store owner, prompting her to open a store of her own in Great Barrington, Mass. His father, sympathetic to the plight of door-to-door salesmen, would always buy two of whatever they had to offer.
"Our house was filled with clutter," Roseman joked. "But he was very charitable."
Perhaps this is what drove him to public service, but Roseman presents it differently. After graduating from George Washington University in 1970 and Georgetown University Law School in 1973, Roseman headed to the Central Intelligence Agency in Langley, Va., and told a recruiter, "I want to be like James Bond."
But, due to Roseman's legal background, the CIA thought it would be best to hire him as an attorney. He accepted the position and, later on, as he always dreamed, the agency moved him to the Directorate of Operations. In preparation for his new role, he trained in martial arts and he even now has a black belt.
Roseman worked his way up, becoming one of the most senior officials in the clandestine service. With plenty of success, both domestically and internationally, he earned high marks within the organization.
After the terrorist attacks of Sept. 11, 2001, many people criticized U.S. government agencies for not working efficiently with each other. Roseman was put in charge of the negotiations between the Federal Bureau of Investigation and the CIA, aiming to deconflict the problems. He facilitated an agreement in several weeks.
Because of this success, he was asked to address the issues between the CIA and the military.
"Which part of the military?" Roseman asked his superior at the time.
"I don't think you understand. The military."
This time, Roseman sat down with two dozen high-ranking defense officials. Military officials had very clear ideas on what the CIA could not do. By using his method of handling issues, Roseman managed to guarantee all of the CIA's "must-haves" in the agreement. Again, this was achieved within weeks.
In the 1990s, after the Bosnian War between Muslims, Croatians and Serbs, the State Department asked him to negotiate between Muslim and Croat intelligence agencies to combine them into one. After that was completed, the United Nations asked him to help bring the Serbs into the mix—which he also did.
Roseman has had plenty of experience dealing with presidents of countries, heads of intelligence services, royalty, diplomats and others, but, like much of his work, it remains top secret.
Today, Roseman is semi-retired and lives in Woodstock, Vt. His new book, "You Want MORE? Money, Opportunity, Respect, Everyday Success. Here's How to Get It!," using his skills to show readers how to get the results they want or tackle everyday problems, was released in February.
His relationship with B'nai B'rith Inter-national goes back to his mother, Roselle, who felt very connected to the organization. His children Kimberly and Christina are involved as well, becoming the third generation to do so. Dave is most impressed by B'nai B'rith's dedication to seniors, its charitable work abroad and its fight against anti-Semitism.
The Roseman family created the Edith "Pat" Wolfson Endowment Fund, named after his aunt. Interest from the fund goes to the B'nai B'rith World Center in Jerusalem, which uses the money to aid victims of terror and their families.
"My heritage is very important to me," said Roseman. "I plan to give to B'nai B'rith every year." Every year, Roseman reads the letter describing how the family's contribution helps Israeli families in need, giving him plenty of "nachas."
On a recent trip to Israel, his daughter Kimberly met with Alan Schneider, the World Center's director. There she learned more about the wonderful work that has been done in her family's name. This meeting, of the Roseman family's third generation involved with B'nai B'rith, gave him nachas as well.